I started this in 2010, but failed to follow up in 2011 (i was busy by the year's end being a new working mom), but Rick inspired me to do another.
I had thought about this long and hard, because 2012 was not the best year for the Beeman family for many reasons, and if i were negative, I could probably list more reasons against 2012 than why it was great, BUT the best part about that, is even though there were bad moments, they don't stick around to muck up my head! That's the beauty of giving it over to God.
10. Working for SAS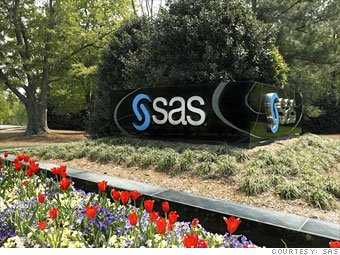 The group I belong to is quite small and produces high performance dollar software that sells for no less than a quarter million a copy, and we sell a lot of licenses. Our company revenue is in the BILLIONS, and my product sales, annually, are in the hundred millions.. We make a good product and the client knows it. Not bad for a bunch of science and math geeks! We are usually rewarded for our efforts and hard work. Our CEO sees to that. We also just got voted #2 in
Fortune Magazine's list
.
9. Joining a Church
Rick and I struggled to find a church, and every time we thought we found a suitable match, one of us would find something we couldn't live with. To be honest, throughout my pregnancy, we didn't go to church very often. I would say we watched it on TV or listened to it on pod casts, but we didn't make the effort until after Sloan was born. By then we were motivated because we both know how important our church upbringing was for each of us. We finally found one.
www.madebeautiful.com
We love the people and the fellowship we get from attending weekly. I am actively volunteering in the nursery and we open our home to host a community group (bible study) on a regular basis. They also hauled in snow for Christmas Eve and that was pretty great.
8. Boarding the Meka II
Yup. I got to board a pirate ship with a real pirate... It was awesome. Captain Sinbad and his first mate Lt. Brown were amazing hosts and we had a memorable time! Sloan and Ellie loved it too.
http://www.pirate-privateer.com/
We spent Rick's birthday weekend in Beaufort, NC which was a real treat: Since I already have a PIRATE dog, she felt right at home! Yo Ho! Yo Ho! a Pirates Life for me!
7. Trips Away and Visits at home
We did a lot of traveling in 2012 despite everything. (or IN SPITE of it). We started out the new year pretty home bodied. We had many visits to our house by both sets of grandparents. Grammy and Granddad Beeman were there to ring in the new year and Mimi and Papa Sloan drove off just hours before Sloan's first (and only) snow started falling from the sky, the same day Sloan started crawling! WE had visits from our crazy Quinn cousins. Many beautiful days spent outdoors. We went to the beach for the first time in April to test out our beach gear and our baby before trekking on a bigger vacation we had planned. We flew to California the day before Sloan turned 10 months old. It was a painful flight, we were cramped, it was over booked, and it was HOT, but we made it! We got to spend a wonderful day and two nights at my sister in law Kristen's house in Walnut Creek area (the house is amazing) and swim in her pool. It was great to visit. We also visited some friends in Houston which was quite enjoyable. We went to Boston in June for my work, and Rick was fortunate enough to tag along and sight-see with Sloan while I did the "work thing" We had a wonderful time!
Sloan also got to meet ALL of her BEEMAN cousins in 2012, and a new one on the way for 2013!
Add in a few visits to my parents, and grandparents, and end it with a visit to my hometown to see some wonderful people that I have known most of my life! We had a great year of traveling in 2012, and we hope to continue our passion of travel in 2013. Sloan and I have a trip already on the books for February, and a tentative one to PARIS in JUNE - gotta fly this one for free while we still can!
6. Sloan Growing up!
I could write a whole blog about this. Oh wait.
01 JAN 2012
This past year has been amazing. Sloan went from sitting up to crawling to walking to running (sort of). She grew from eating only milk to solid foods to everything we have on the table and even some of the things we don't serve (dog food). This has been a great year and I love being a mother! She has this incredible vocabulary, a witty disposition, and is so full of life, energy, and pure joy!
14 DEC 2012
5. DROPPING SERIOUS POUNDS
Seriously, I love my life. And who isn't happiest at their healthiest weight?! As i mentioned in my previous blog, Rick and I lost at least 20 lbs each last year, but I personally lost about 25 and am down to my 15 year old weight! I think the photographs above show the difference in the year. The tough part is having to purchase a new wardrobe because I never thought post baby i would get back into my then skinny jeans (which are now a bit baggy)... I know, first world problems indeed. The changes I made? Well for one, I am chasing a toddler whom I am also still breast feeding. And secondly, we eat only whole foods, natural foods, none of that processed crap that comes in boxes and bags. Sure on occasion I will indulge in something, after all, I am human. But fried foods and what i consider to be toxic are a thing of the past.. Who ever thought I'd be in a size 2 at 32? I feel great and i love what i eat.
4. Passing my PhD ORAL Exam
This is self explanatory. I passed. I should be finished by end of 2013, and really hope to put that on the top of my list for next year!
3. Rick staying in NC
This is both a good and a bad thing. Rick took a job that would have had him living away from home, and filming in South Africa. The funding for the production fell through (this was pretty bad for us) so he had to scramble to find a plan B. I am grateful that he found a plan B, albeit not his dream job. The good part of this is that WE are able to see him every day. I think having a present parent is crucial to raising good children. They need both parents to be there. Especially in the formative years. When are the years not formative?
2. My father's restored health!
He was sick. He is better now, mostly. We are so grateful as I love my dad so much i hope he is around for another 60 years :) The worst news of 2011 became a blessing in 2012.
Papa Sloan and Sloan B. - 19 Feb 2012
1. HAWAII
We went to Hawaii in 2012, and while it's not on my list of going back anytime soon, I am so glad that i went and got to experience it.. The entire time I was there, I likened Hawaii to Costa Rica (minus the price tag on everything). If you have a huge desire to go to Hawaii and not the budget, go to Costa Rica ! We were fortunate enough to have free accommodations thanks to my in laws and their Time Share. We budgeted our trip by eating in most meals and hitting up "Early Bird" specials when we ate out. Don was a trooper and went on one of our excursions around the island.... We had a great time. I do plan on blogging about the trip one of these days, but life, as you know, hasn't stopped to let me catch up yet, and I don't imagine it will.