Sloan is a climber. She climbs on my legs, she climbs over pillows (there went our NO FAIL method of keeping her on our bed), she climbs the dog, she climbs ricks feet, and now, she climbs on furniture and shelves. I believe now we are entering what i would like to call the Period of Bumps and Bruises otherwise known as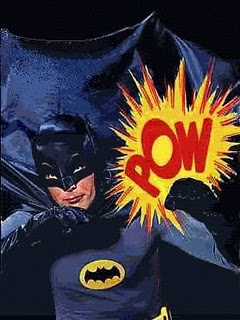 My Baby Bruised her OWN Face - No We Don't Beat Her.
Today after i dropped her off at school, i left her by the bucket of balls. Sloan climbs up to her knees, lets go, and bam. If life were a batman cartoon, you'd have seen it something like this except rather than seeing batman, you would see my child's entire side of her face hitting the shelf.
She took it quite well though, i mean it took her a few seconds, she did cry, but then i didn't rush to her and she stopped crying. There were no tears, but there most certainly was a red line from her chin to her ear, even her earlobe was red. Poor thing. We've only just begun! (Did i just put a song in your head? good)
Last night she climbed up on her book shelf. It is literally a shelf of HER BOOKS, in our entertainment center, and now that the shelf is anchored to the wall, i say, climb on baby girl. Rick didn't think it was a good idea, he didn't want her to "learn to climb" but I think he will soon see his line of reason is flawed. It is just too late!
Here are the latest from the last few weeks:
Pulling up at the shelf to get toys
Climbing the sofa arm to get to the Cup
Let the baby chasing games begin!