I am now 33 weeks and 3 days pregnant. I have retained more water than i know what to do with it. Which means i'm swelling. I am looking forward to my massage this week.
This week your baby weighs a little over 4 pounds (heft a pineapple) and has passed the 17-inch mark. She's rapidly losing that wrinkled, alien look and her skeleton is hardening. The bones in her skull aren't fused together, which allows them to move and slightly overlap, thus making it easier for her to fit through the birth canal. (The pressure on the head during birth is so intense that many babies are born with a conehead-like appearance.) These bones don't entirely fuse until early adulthood, so they can grow as her brain and other tissue expands during infancy and childhood.
Biggest challenges:
MY FEET are so swollen. I am feeling miserable and Rick telling me " i want to have the next one as soon as possible" makes me feel sick, but i'm sure once the baby comes i will be ready shortly. We want them close in age. But probably two years apart in school since Sloan is a summer baby and will be young for her grade. We would have to have one before September of next year to space them only one year apart in school like my sister and I. Overall this pregnancy has been great so i expected something to change.
Cravings
:
i don't crave any food at this point. I hardly eat b/c of the heartburn. its so bad it makes me feel like throwing up. I crave swimming and sleep. Except sleeping hurts my arms no matter how I sleep and i wake up with both hands numb. I am so ready for better sleep, even if it only comes in spurts. I crave comfort.
The ultrasound last week confirmed that she is still a girl!! PHEW!


She is still moving. The cutest part is that her hands are near her face so i feel tickling in my lower pelvis where her fingers are moving. Feet to the ribs are a daily thing and my right rib burns often. I still LOVE to feel her move under my hand. She really is running out of room.
i am tired and i sleep but i'm not comfortable.


comfort and sleep and my warddrobe
What i LOVE
:
I love baby showers. Rick gave me an early "push present". I told him it would be ironic if i end up with a c-section BUT if you notice below - i have quite the incentive to push this baby out the good old fashioned and natural way. I think if he picked the diamonds any bigger, i'd have run out of earlobe space to hold them!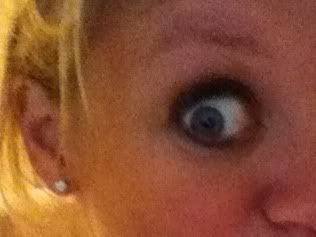 Emotions:
Still tired. I cried today at the doc. I just want this to be over now. I think the heat and swelling have a lot to do with that. I HOPE our next baby comes in April or early May (of 2013!). It will if i get to have any control over the situation


Milestone
:
Our first baby shower (i'll post a new one on that when i get a chance). We have another one on Thursday at WORK and i'm super excited about that!!
Sloan's "first" concert. My friend Brittanay took me to see Katy Perry last Tuesday!
I am so glad that Sloan couldn't hear the lyrics or understand them. This was a lesson to me to be sure i listen to the lyrics BEFORE i take my daughter to a concert. I did not realize how much innuendo was in Katy Perry's music. As a 30 year old i laughed and enjoyed the show, i don't think the mother with the 9 year old in front of me felt the same. "Let me see your peacock, cock cock" as she proceeded to "work " the microphone.... yeah. My friend Brittanay and i were just like Oh my! I guess you only partially listen to lyrics and while i know some of her songs, I'm not like a die hard KP fan. I think i'm too old or something plus its not my style but i do really like KP and her story. She grew up a missionary kid, married Russel Brand, and is a great singer/performer. We loved the show. It was very nicely executed and kept our attention.
And look how close to us she was: (taken with my iphone)