Here's a little side by side comparison. I'm not the best self photographer but i try.
Upper Left 27 weeks - Upper Right 23 weeks,
Lower Left 21 weeks - Lower Right 20 weeks,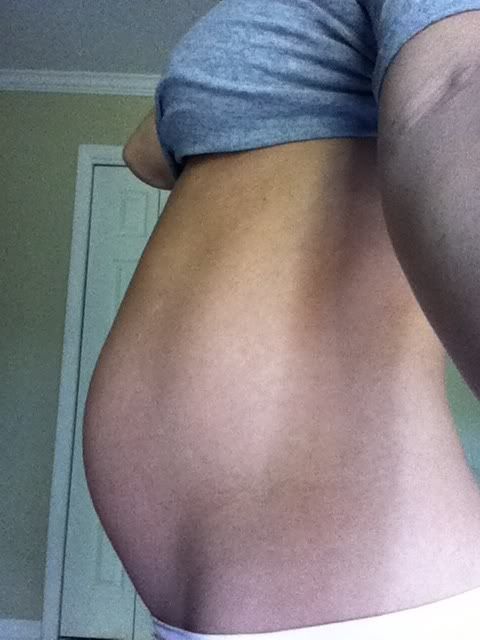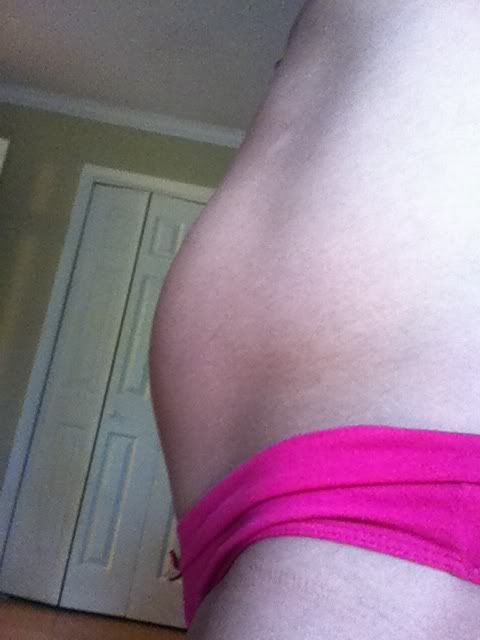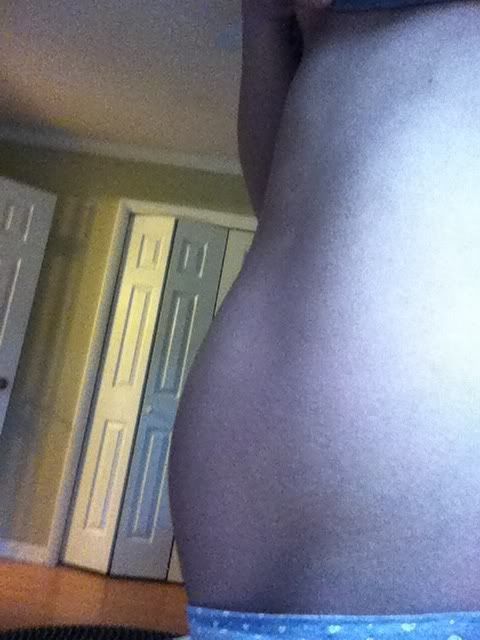 About 14.5 inches long and the size of a head of Cauliflower and averaging about 2 lbs in weight.
From a Website:
She's sleeping and waking at regular intervals, opening and closing her eyes, and perhaps even sucking her fingers. With more brain tissue developing, your baby's brain is very active now. While her lungs are still immature, they would be capable of functioning — with a lot of medical help — if she were to be born now. Chalk up any tiny rhythmic movements you may be feeling to a case of baby hiccups, which may be common from now on. Each episode usually lasts only a few moments, and they don't bother her, so just relax and enjoy the tickle.
I have been having some severe shoulder pain lately and what can i do for it. I think sleeping with my arm over my head is causing it but there isn't anywhere else to put my arm.
Cinnamon Candy. I was looking for a bag of cinnamon discs yesterday but couldn't find any so i had to settle for Hot Tamales. I love them. I eat 2 bowls of raw spinach a day (with avacado, balsamic vinegar and sometimes fresh parm or olives)
Gender
:
Baby girl named Sloan Violet!
Movement
:
Sporadic. Some days she is my little pinball, sometimes she is just a lazy baby. I wonder if she has flipped. Last week i definitely felt her make two huge movements twice so i'm wondering if she has made her initial approach into her takeoff position. that would be nice.
What I Miss:
OTC drugs! i miss being able to take sinus medicine without thinking twice about it. I miss sleeping through an entire night. I think these bathroom breaks at 4am are preparing me for nighttime feedings.
I love the comments from the ladies at work about how cute i look. How small I am. How i don't look like i've only got 13 weeks left. (I feel huge and the numbers on the scale agree) But hey, i have always held my weight well and my massage therapist said that I had good birthing hips and the baby is likely nested between them rather than all out front like a basketball. I'm a pear. Rick is still amazing. He vacuums and empties the dishwasher. He puts his clothes away. He doesn't make messes. I cook, he cleans. I hope this remains our "norm". Daily foot massages still!


Maternity Clothes
:
Non maternity tops most of the time with maternity jeans and shorts and skirts. I have a few non-maternity skirts and dresses i also wear. I am wearing a regular bikini (with the strings looser on the sides) and i purchased a maternity tankini top for when i get a little bigger. dont' want to scare the kids at the pool.
Milestone
:
My first Mothers Day! I received a very nice thoughtful card with a lovely note. Breakfast in bed, a full body massage, and the day was "Jennifer Day" which means i get to do whatever i want. (but in case you didn't know, most every day is jennifer day)